The DMMOC is an official branch of the MMOC UK National Morris Minor Owners Club. We are a part of, and receive support from the MMOC although we do have our own membership. So, we encourage our members to be paid up members of the MMOC also.
The MMOC DEVON Branch are next door to us, but have the following contact details:
Lorna Moggridge.
nickietilley@btinternet.com
01823672693
CHECK OUT OUR FACEBOOK GROUP
LATEST NEWS:
30th December 2017: Mistletoe Meander photos on the Facebook page, as shown above
28th December 2017: Details have now been finalised for the Branch Rally/Southern Regional Rally/ Moggyfest/ 70th Anniversary Event at Beaulieu in May 2018. See the Branch Rally page for more information.
22nd December 2017: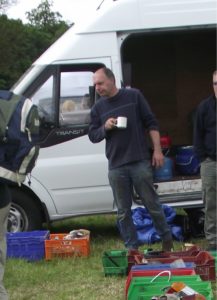 As you may know, Keith Adams of the Hampshire Branch passed away on Tuesday 19th December. Keith (57) was a well known member of the club and known to many of our members here in the Dorset Branch. He was a familiar face in  the Morris Minor Autojumble scene and was often seen teamed up with Giles on the trade stand (right – at a National Rally a year or two ago). The Branch offers its condolences to his family and friends.
The Funeral will be held on Wednesday January 10th at 1:00 pm at Wessex Vale Crematorium, Bubb Lane, West End, SO30 2HL and afterwards at the 'Robin Hood' pub at Durley (SO32 2AA) Please let David Grice (02380 872609) know if you wish to attend the wake (for catering purposes). Please come along in your Morris Minor if possible.
1st November 2017: Just a reminder to bring your photos along tonight for the clubnight competition and your entries for the Dinner and Dance and the Mistletoe Meander. We are also presenting the charity fund raising cheque for £300 to the Kinson Coommunity Centre tonight.  If you have had trouble loading the newsletter this month, apologies, but you should be able to access it from the link on the 'Current Newsletter' page rather than the link sent round in the email. (Also, check out the Facebook page – if you partake of such things!)
22nd September 2017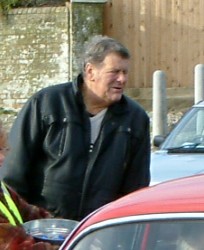 Today we learnt of the passing of another of our members. Keith Young passed away peacefully at home on Tuesday 19th September. The funeral will be on October 2nd at Poole Crematorium at 1:30pm. Those wishing to attend in classic cars will be most welcome. Meet up at 99 Rossmore Road, BH12 3HN for a 1:00 departure. The Branch sends its condolences to Sandra and Alex.
31st August 2017 – We now have a Member's Wedding Hire page – so if you are after a Minor for Wedding Hire, look no further. If any other members are willing to offer their services, then please let me know via the Contact Us page.
18th August 2017: Bruce Eggleton:
 Today, we received a letter from Bruce's wife advising us that he died earlier this week. At this stage we have no more information but we will pass it on when we receive it.
Many of you will remember Bruce giving help and advice on engineering matters as well as seeing him driving his 1933 Austin 10 that was bequeathed to him by his Grandmother in the mid 1970s.
Bruce would drive down to our meetings from his home in Chobham which was a round trip of about 150 miles.
He was always willing to consider all engineering problems no matter how trivial or complicated. Many of us have cause to remember him fondly every time we use something that Bruce had sorted out for us.
We will miss him.
Jim Eggleton
Jenny Sansom
Jackie Walker
Dave Walker
2nd June 2017, Alan Shepherd: Alan's funeral will be held at Bournemouth crematorium, Friday 9th June at 11am and then after at the Hurn Sports and Social Club.
16th May 2017: Message from Dave and Jackie Walker. Some of you have heard about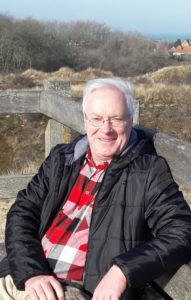 the sad incident that happened on Saturday at the Moggyfest Branch and Southern Regional Rally. Many of you know "Albert from Belgium", a frequent visitor to Dorset's activities. He came over to the Moggyfest in his Citroen 2CV with his wife Monique, and was staying with us. Shortly after arriving at Beaulieu he collapsed and, despite the incredible efforts of the Medical Services, could not be resuscitated. He was pronounced dead at Southampton Hospital at 10:25 on Saturday. Jackie and I would like to thank everyone for their unconditional support and help in dealing with this tragedy. There is not enough space in this publication to mention everyone by name but from Laurie initially arranging for us to be found, Neville getting us out of Beaulieu in a time of prohibited vehicle movement and, finally, Steve Brown for driving Albert's 2CV back from Beaulieu, every possible help was given.  Many other persons should be named, you know who you are and we are sure that you will forgive us for not mentioning you personally. There was never any question of anyone walking away from the problem, indeed it was not a question of "let me know if I can help" it was "what do you want me to do". You covered everything from re-allocating our duties with regard to the Regalia to arranging for the safe keeping of Albert's car at Beaulieu. 
We have always thought that the MMOC was something special but your assistance was totally beyond our hopes. 
On behalf of ourselves, Monique and Albert's Brother Bob, can we say a very grateful thank you.  Without you we would not have coped. 
Monique and sister in law Lut drove the 2CV back to Belgium on Monday and we have had confirmation of their safe arrival back home at about 23:00. As you can imagine, there are many formalities to be undertaken and we are slowly working through them. 
Thanks again, you are not just acting as fellow Club Members it was truly something special and this will never be forgotten.  Dave and Jackie
16th May 2017: The funeral details have been finalised for Terry Kingston. It will be at 2:00pm on Thursday 25th May in Gillingham in Dorset. Friends (preferably with Classic cars) will be welcome to meet in the Lidl Car Park in Gillingham at 1:00pm. (If we get any more details, they will be put here.)
1st May 2017: We are sorry to announce the sad loss of our friend and Morris Minor enthusiast Terry Kingston who died in hospital over the weekend. The Club sends its condolences to his family. He was a regular at car shows around the area and often seen in his Series II blue pick up. Funeral details will be advised when known.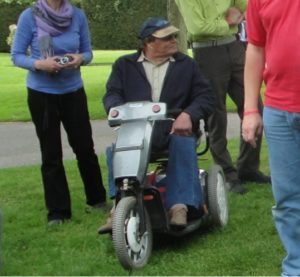 DORSET COMMUNITY WORKSHOP
I would be extremely grateful if you could forward the email to as many people you know who love classic cars and who may either like to buy some parts (listed at the bottom of the email) or would be willing to sponsor the project with a small donation.
People can read all about the project, and me at the crowdfunding project page below. http://www.crowdfunder.co.uk/dorsetcommunityworkshop
 
Dorset Community Workshop

To create affordable (not for profit) workshops for Craft Business start up's needing a first work shop & Classic & Vintage Car enthusiasts