The DMMOC is an official branch of the MMOC UK National Morris Minor Owners Club. We are a part of, and receive support from the MMOC although we do have our own membership. So, we encourage our members to be paid up members of the MMOC also.
The MMOC DEVON Branch are next door to us, but have the following contact details:
Lorna Moggridge.
nickietilley@btinternet.com
01823672693
LATEST NEWS:
CHAOS CHARITY CHEQUE PRESENTATION: West Moors Family Centre Bond Avenue, West Moors BH22 0LL 10:00-12 bring your Minor
MARIE CURIE MARATHON: We raised a total of £166.19 at the fund raising event on Saturday 24th. Thanks to those who supported the effort.
MARIE CURIE MARATHON: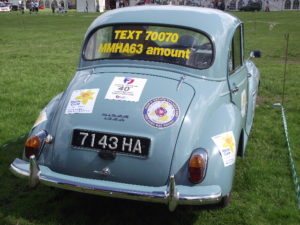 You may have read about this in your Minor Matters. The MMOC are doing a round Britain Run to visit every Branch to raise money for the charity. The car will visit Dorset on Saturday 24th September at Castle Point Shopping Centre                       (BH8 9UZ) from 09:00—12:00. We are hoping to get a few cars along in support. Please let Laurie know if you are able to come along to help.
22 September 2016: City of the Unexpected. An activity being arranged to celebrate the Centenary of Roald Dahl in Cardiff on 17-18th September 2016. (Involves Morris Minors – apparently!)
9-10th July 2016: Our Branch rally was held at Burley Park in the New Forest recently. Thanks for the kind comments received. Photos on the 'Photo Gallery' page (or click here)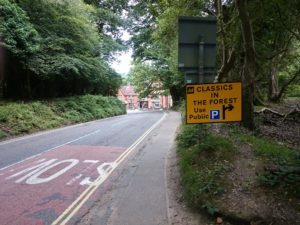 5th February 2016 Branch member John Marston sadly passed away on 29th January. The Branch sends its condolences to his family.
9th January 2016 The 2016 Dinner Dance was held at the weekend and a good time was had by all/ Here are some photos.
28th December 2015 The last DMMOC event of the year has now passed. Something like 30 cars turned up for the 'Meander' today. Photos here.

20th November 2015 We were sorry to hear about Branch member Roger Ware, who passed away peacefully on 20th November 2015. The Branch sends its condolences to his family.