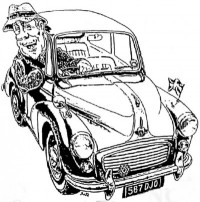 The DMMOC is an official branch of the MMOC UK National Morris Minor Owners Club. We are a part of, and receive support from the MMOC although we do have our own membership. So, we encourage our members to be paid up members of the MMOC also.
LATEST NEWS: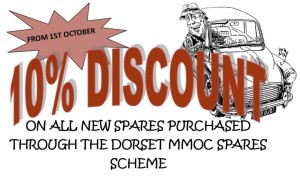 25th November 2015 Roger Ware's Funeral will be held at Bournemouth Crematorium on Wednesday 2nd December at 11:00 am and afterwards at the Broadway PH.
20th November 2015 We were sorry to hear about Branch member Roger Ware, who passed away peacefully on 20th November 2015. The Branch sends its condolences to his family.
3rd November 2015 Rally details published, see Rally Page
27 September 2015 10% Spares discount scheme (for Branch Members only) announced in October Newsletter. Also date and new venue for 2016 Branch Rally confirmed.
3rd September 2015. We made our charity presentation at the September Clubnight, donation £500 to the local Leukaemia Support Charity 'LEAF'.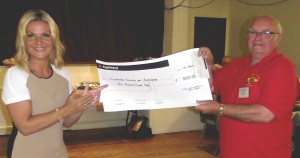 31st August 2015. Lord Montagu passed away today. The Dorset Branch sends its condolences to the family.
2nd August 2015. Great show by the club with 21 cars on the stand at the Lymington Summer Spectacular. Excellent show it was too, see photos
5/4/2015 BONNET STAYS: Now in stock, please see New Spares page if you want to order one.
The Branch Rally was held on the weekend of 11-12th July 2015
The winners were as follows:
Series MM – Mike Sheppard
Series II – Colin Mockett
1000 Saloon – John Ayres
1000 Traveller – Tony Ware
1000 Convertible – Ian Barnes
1000 LCV – Dave Holton
Custom – Peter Coates
Modified –  Marcus and Sparky Ward
Post Production Convertible – Joe Bishop
Working Minor – Theresa Moxley
Visitors – Norman Jones (VW Beetle)
Best Dorset Vehicle – Phil Traves (SII Traveller)
Best Restoration – Andy Dibb (1000 Van)
Furthest Distance – Andrew Ross (133 Miles)