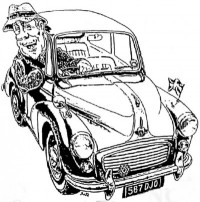 The DMMOC is an official branch of the MMOC UK National Morris Minor Owners Club. We are a part of, and receive support from the MMOC although we do have our own membership. So, we encourage our members to be paid up members of the MMOC also.
The MMOC DEVON Branch are next door to us, but have the following contact details:
Lorna Moggridge.
nickietilley@btinternet.com
01823672693
LATEST NEWS:
5th February 2016 Branch member John Marston sadly passed away on 29th January. The Branch sends its condolences to his family.
9th January 2016 The 2016 Dinner Dance was held at the weekend and a good time was had by all/ Here are some photos.
28th December 2015 The last DMMOC event of the year has now passed. Something like 30 cars turned up for the 'Meander' today. Photos here.

20th November 2015 We were sorry to hear about Branch member Roger Ware, who passed away peacefully on 20th November 2015. The Branch sends its condolences to his family.
3rd November 2015 Rally details published, see Rally Page
27 September 2015 10% Spares discount scheme (for Branch Members only) announced in October Newsletter. Also date and new venue for 2016 Branch Rally confirmed.
3rd September 2015. We made our charity presentation at the September Clubnight, donation £500 to the local Leukaemia Support Charity 'LEAF'.